There was an old lady who swallowed a meerkat
I don't know why she swallowed the meerkat
Fancy that!
The old lady of the title has quite an appetite. Not content with swallowing a meerkat, she consumes an owl, a hyena, a lion and more. This take on the well-known traditional rhyme is set in the zoo, where she has access to animals from all around the world. Other zoo visitors look on in surprise as she continues her swallowing. Things get more and more out of hand until the old lady swallows a hippo. Full colour illustrations take on an escalating psychedelic feel with bright colours and wild internal scenes.
Many readers will be familiar with the original 'There Was an Old Lady Who Swallowed A Fly', and this version continues the nonsense at the zoo. Young readers will giggle at the antics of the old lady, the victims and the observers. As with the original, the action is sufficiently absurd, as to be comical rather than believable. The text is rhythmic, rhyming and cumulative and young children will soon be able to join in the 'reading'. The text for the animals is presented in different and larger fonts, ideal for young pre-readers to start identifying word shapes. Good fun, with plenty of extra story to be found in the illustrations. Recommended for pre- and early-schoolers.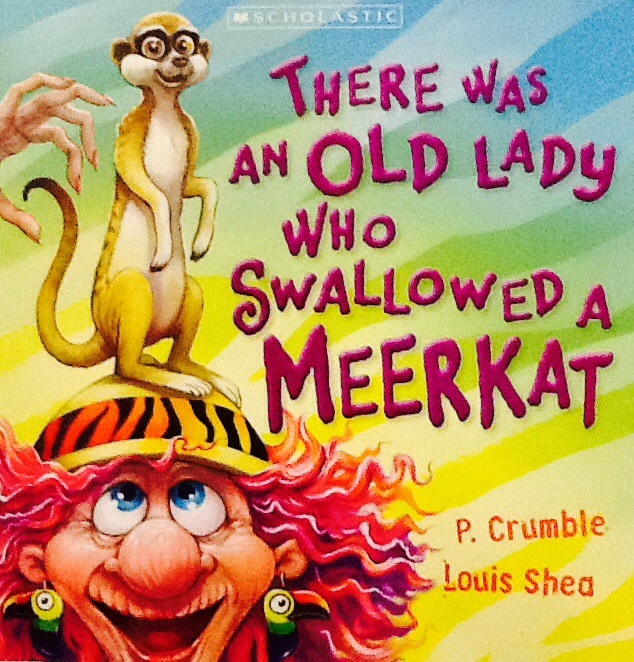 There Was an Old Lady Who Swallowed a Meerkat;, P. Crumble ill Louis Scholastic Australia 2013 ISBN: 9781742836461
review by Claire Saxby, Children's author and bookseller
Available from good bookstores or online.