Budinge lived with his grandmother in an old wooden house beside a waterhole, deep in the Australian bush.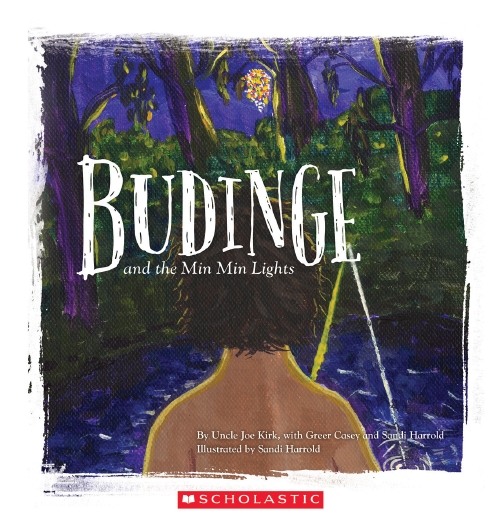 Each evening Budinge would take his fishing rod to the waterhole. He would sit on his favourite rock and he would fish until bedtime.
One night he noticed a bright light twinkling through the trees.
'Hmmm,' he wondered, 'What can it be?'
Oh goodness me! Oh goodness me!
I think that thing is watching me!
Budinge lives happily with his grandmother in the bush. One evening when fishing, he sees a bright twinkling light and remembers his grandmother's story about the Min Min lights. The Min Min lights come to naughty children and entice them away from their homes. Budinge watches as another light appears, then the two lights unite to become one. He flees as they come towards him, finally diving into his bed and pulling the covers over his head. After a while he becomes brave enough to have another look. He discovers that the light is made up on many small lights – a cluster of fireflies. He is no longer scared and enjoys playing with the fireflies. Throughout there is a refrain that escalates the tension. The final words ask the reader to think about why Buddinge's grandmother might have told him this story. Each opening has text set in a coloured page on the left with illustrations occupying the right page.
Budinge and the Min Min Lights is a dreaming story from Uncle Joe Kirk, intended to help young readers understand Aboriginal culture. It's easy to imagine this as an oral tale shared with and passed to the next generation. The refrain adds to the tension and demonstrates Budinge's growing fear. The night bush landscape can appear threatening and dangerous, but may not be if you can learn to read and understand it. Recommended for early primary-readers and anyone wanting to extend their knowledge of Australia's traditional stories.
Budinge and the Min Min Lights, Uncle Joe Kirk with Greer Casey and Sandi Harrold, ill Sandi Harrold Scholastic Australia 2015 ISBN: 9781743628577
review by Claire Saxby, Children's author and bookseller