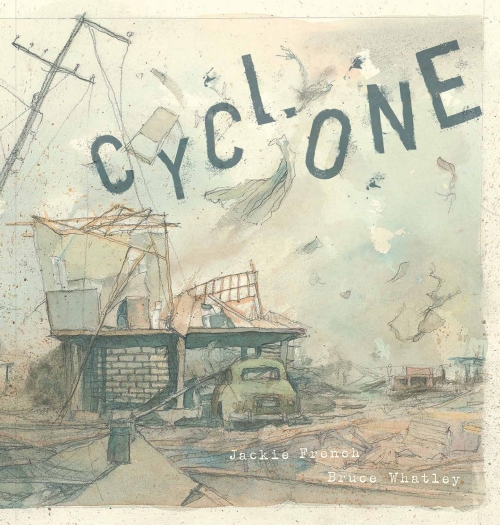 Outside, a giant
groans and growls.
A wind that
batters
shrieks
and howls.
A crack,
A lurch,
our house
is torn
Ripped
to paper
by the storm.
On Christmas Eve in 1974, Cyclone Tracy destroyed most of the city of Darwin, with houses ripped apart and families fighting for their lives as they sought shelter. Christmas Day revealed the extent of the damage and, in the days that followed, families were separated as most were evacuated until it was safe to return. While other cyclones and storms have hit Australia before and since, the scale of Cyclone Tracy and the damage she wrought, nothing has matched the scale of that storm – with 71 people killed, 41 000 left homeless and 80 percent of the homes destroyed.
Cyclone tells the story of that night from the perspective of a child who, initially, is sure that nothing is going to spoil Christmas, until s/he is woken in the night by Dad, who ushers his family out of their disintegrating house to hide under their brick barbecue. The rhyming text gathers the momentum of the storm – starting and finishing calmly but with pace and fury in the middle, and the chaos reflected by short line breaks.
The illustrations too, match the text with brooding skies in the early spreads, lightening slightly to illuminate the chaos of the storm, then brighter in the pages that follow. The use of muted tones and washes reflects both the tone of events and the photography of the 1970s which was used as reference material.
From the team who previously produced Fire and Flood, Cyclone is another outstanding offering.
Cyclone, by Jackie French and Bruce Whatley
Scholastic, 2016
ISBN 9781743623596