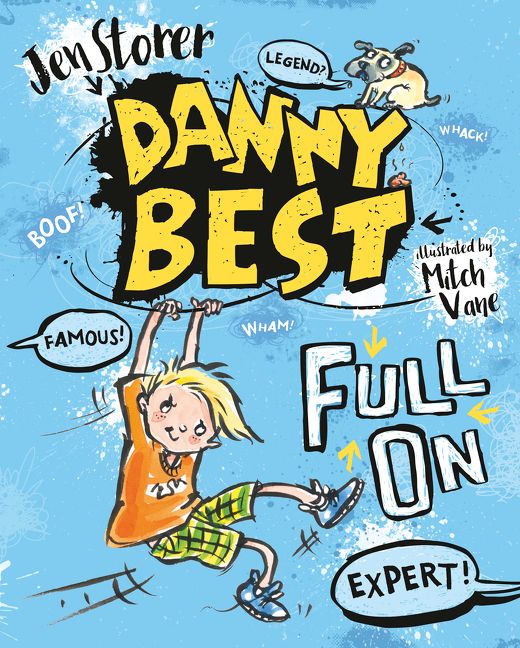 I creep across the grass like a MISSION: IMPOSSIBLE Secret Agent. I am silent. I leave no trail.
I pick up a stone and hurl it at the chook shed. The stone hits the tin rook with a CLANG and the chooks SQUAWK.
That'll trick Fab.
Danny Best and his best mate Fab are playing cops and robbers. Danny is the robber, and his job is to get away from Fab for long enough to steal the treasure. But hiding under the house is a bit tricky, and policeman Fab has got back-up in the form of their other friends.
"Cops and Robbers" is one of five short stories featuring Danny and his friends in Danny Best: Full on, the first book in a new series. Danny doesn't just think he's the best – he knows it. And most of his adventures feature races or competitions of some sort, including obstacle courses and child-built race circuits.
Danny is a little bit full of himself (aren't most 8 and three quarter year olds?) but is able to laugh at himself when things go wrong, and his friends have his measure. The stories are fast paced and humorous and feature cartoon-style illustrations, maps and more, including humorous quizzes after each story.
Lots to like here for primary aged readers.
Danny Best: Full on, by Jen Storer, illustrated by Mitch Vane
ABC Books, 2015
ISBN 9780733333330