Wakey-wakey peachy pear,
my fuzzy-wuzzy grizzly bear,
my tootsy-wootsy fizzyjig,
my hurdie-gurdie whirligig!
It's walk time. A cute ginger and white dog wakes, eager for his morning walk. He wakes his bearded owner, excited at who they might meet in the park today. Will it be one itzy-bitzy Poodle, or two lovey-dovey Bolonoodles?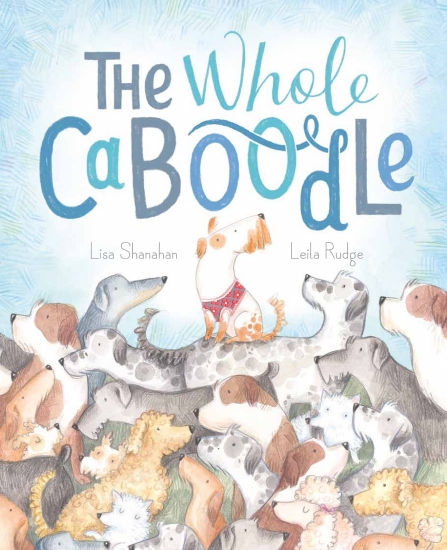 The Whole Caboodle is a gorgeous rhyming counting book, featuring not just the narrating dog, but a whole feast of dogs big and small, real and recreated. As the little dog and his owner prepare for their walk, each new dog is mimicked by something in the illustration. So, when one poodle is mentioned, there is a poodle teapot cosy as the owner eats breakfast, and the two Bolnoodles are represented by a pair of dog slippers. On the final spread, in the park, when they meet 'the whole caboodle', the real dogs are present, and readers will have fun spotting and counting them.
Youngsters will enjoy the rhyming text, with its creative use of words created for tongue-twisting fun, and the  illustrations with matching whimsical detail. This one will demand repeated rereadings.
The Whole Caboodle, by Lisa Shanahan & Leila Rudge
Scholastic, 2016
ISBN 9781743629321