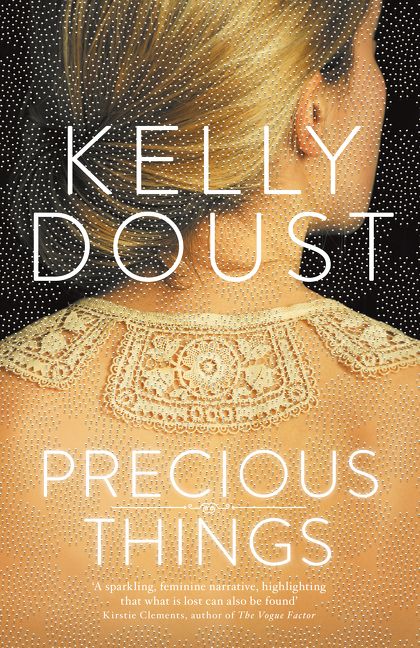 Thumb and forefinger feeling towards tiny dimpled edges, she grasped another shining glass bead, a glittering silvery grey button of mercury. Separating it from the hundreds of others nestled inside the small wooden work tray, Aimee withdrew the bead, brought it close to her face and peered at the pinprick of light.
In Normandy, in 1891, Aimee sews beads to make a collar for her wedding, a wedding arranged by her father in the hope of saving his estate from ruin. In London in 2015, auctioneer and lover of beautiful things, Maggie, finds the aged collar at the bottom of a box of pieces of lace and fabric she has won cheaply at auction. Wondering at its past, Maggie cleans it, and shows it off during a television appearance, and is soon contacted by a stranger sure that she has a connection to the piece. As Maggie tries to trace the history of the collar and its previous owners, she also struggles with her own past and the way it impacts her present. Is the collar leading her towards making the biggest mistake of her life – or is something more simple at play?
Precious Things is a novel about family and about love, spanning three centuries and touching on multiple owners of the mysterious collar. Maggie's' contemporary tale is interspersed with glimpses of the collar's past, and the lives of the women who have worn it, though it is chiefly Maggie's' story. Maggie is trying to balance a demanding job in an auction house with a marriage which has always been steady, but is now under pressure as her husband Tim copes with an equally stressful job. The couple's young daughter Pearl and Tim's troubled teen daughter Stella add to the mix, as do Maggie's difficult mother and her old friend Kate.
The collar's past is gradually unravelled, but it seems that Kate's marriage is in danger of going the same way.
Precious Things, by Kelly Doust
Harper Collins, 2016
ISBN 9781460750971