It didn't look like the house of a demon. In fact, as Dillen stared through the bars of the main gate he thought it looked more like a noble's residence, with fountains and manicured gardens and groves of trees over which curved roofs with gold-leaf cladding could just be seen. And if the sight within the walls was something to behold, the sight outside them was even more spectacular. The whole edifice had been built on a spur of the mountains, so that on one side there was nothing but a sheer drop leading to the endless plains below, and on the other lofty peaks crowned in dazzling snow. As Dillen gazed around he was nearly overcome with a sense of endless space, seeming to weigh down on him as heavily as the pack that hung from his shoulder.
Dillen and his companions, Koto and Tajni are on a quest to retrieve the blue jade. To this end, they are seeking the wisdom of the demon who lives in the mountains. Even if they are granted an audience, and this is not certain, they have to decipher his advice. If they are to retrieve the blue jade, they must beat others also chasing it. So begins a chase across the land, through mountains and valleys, through villages and forests, as they race against time. They must decide who to trust and who to avoid. The challenge is made more difficult as each of the three has their own secrets and this affects their ability to trust others. They are both helped and hindered by magical creatures and magical tricks.
The Jeweller of Rassylon is Book Three in 'Tales of the Blue Jade', but it can be enjoyed as a stand-alone novel. It is told in third person from the viewpoint of Dillen, and the reader shares the uncertainties and struggles of the main character as he races across the country in this high-stakes quest. The Jeweller of Rassylon is full of action and adventure and showcases the ability of young people to make tough decisions. There are themes of clanship and trust, loyalty and betrayal. The setting is mostly mountainous and it could be set anywhere and from China to Afganistan, borrowing mythology and landscape widely. Although there is a sense of this adventure being set many centuries ago, many of the issues encountered have resonance today.  The inclusion of strong female characters in addition to the male leads broadens the appeal to all young readers. Recommended for upper primary readers.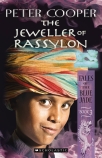 The Jeweller of Rassylon Peter Cooper Omnibus Books 2013 ISBN: 9781862919440
review by Claire Saxby, Children's author and bookseller