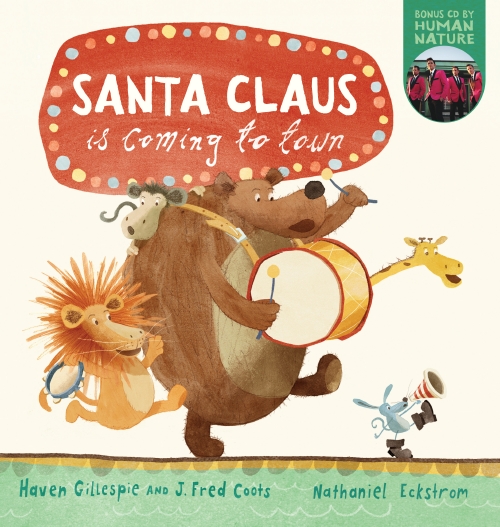 You better watch out,
You better not cry,
You better not pout,
I'm telling you why…
This hardcover picture book offering brings to life the lyrics of the popular song Santa Claus is Coming to Town. Featuring animal characters – a lion, a rabbit, a giraffe, a bear an a monkey – as they prepare for Christmas, and spread the news that Santa is coming by train, plane, by drum and more – this celebratory offering is accompanied by a CD recording sung by Human Nature.
Youngsters will enjoy seeing a song they are likely to be familiar with brought to life and to interpret the subplots of the illustrations as the characters exchange gifts, play tricks, argue and celebrate.
Good Christmas fun.
Santa Claus is Coming to Town, by Haven Gillespie & J. Fred Coots, illustrated by Nathaniel Eckstrom
Scholastic, 2015
ISBN 9781743626405