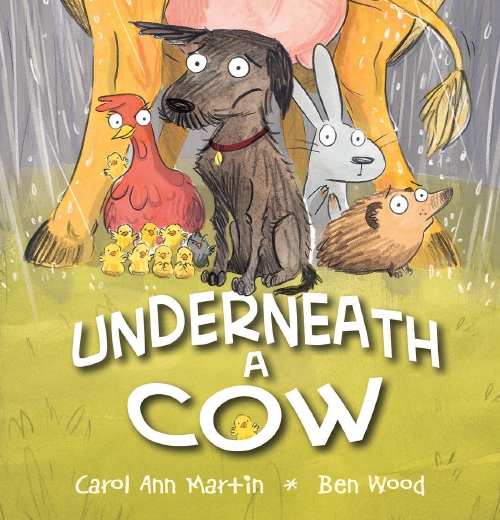 We're under a cow,
We're under a cow,
We're under her here
We're under her now!
When a sudden storm hits, the animals of the farm are taken by surprise. Far from shelter, they are not sure what to do – but Madge the Cow is very calm, and very brave and she offers shelter – first to Lally the rabbit, then to Robinson the dog, Cackalina the chicken and her excited chicks and, finally, to Spike the echidna. As lightning flashes and thunder booms, Madge not only provides a hiding place for the smaller animals, she also encourages them to sing, to dsitract them from the storm.
Underneath a Cow is a quietly humorous story about friendship, safety and bravery. Madge is a gorgeous yellow cow who smiles her way through the terrible storm, seemingly happy to be a point of refuge for her diverse range of guests (though she does request that Spike be careful of her 'dangly bits'). The other animals appreciate her care, and are grateful and even form unlikely friendships through their experience.
Young readers will love the silliness of the story and its warm demonstration of friendship, and the humour of the illustrations, rendered in mixed media inluding watercolour, pencil and digital collage.
Lots of fun.
Underneath a Cow, by Carol Ann Martin and Ben wood
Omnibus Books, 2015
ISBN 9781742990880&