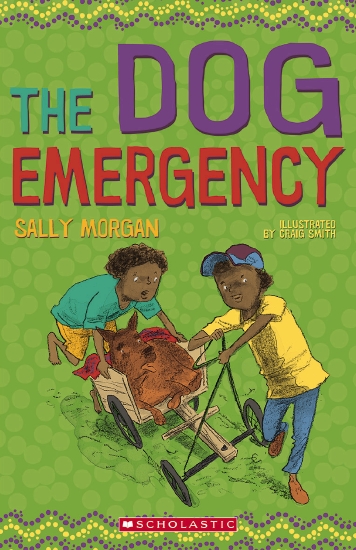 My brother Ryan spots the dog first, but it's me who crawls under the bushes to see if he's okay.
'What's up, buddy?'
The dog whines in pain.
'Hurry up, Dillon!' Ryan calls. 'If we're late home, Mum will do her block.'
'Poor thing's got a bung leg, bro. Don't think he can walk.'
Ryan peers through the leaves.
'He's a proper cattle dog!'
'Yeah. Maybe he came into town with a station worker and got lost.'
Dillon and Ryan live in a small town surrounded by cattle stations. They're missing having a dog, after the death of their old dog, Buster. So when they spot an injured dog, they hope he can come home with then. There's only a couple of problems. Firstly, Mum is still mourning Buster. Secondly, this dog is injured and will need vet treatment – and they have very little money between them. They are undaunted though. Ingenuity gets this dog to the vet, and if they have their way, ingenuity will help them find a way to pay the vet. Each opening has borders on each side and there are black and white images on every page. Cover art introduces both the boys and the dog they rescue.
The Dog Emergency introduces everyday life in a small country town. Two boys (who incidentally happen to be indigenous) encounter a dog who just might become their new pet. They are determined and resourceful boys and even though they know there's no guarantee they'll take the dog home, they make sure he gets the care he needs. It's their way of dealing with missing Buster. A lovely story of everyday life, of boys and dogs, of love and loss, and family and community. Short chapters make this ideal for newly independent readers. Recommended for lower primary.
The Dog Emergency, Sally Morgan ill Craig Smith
Scholastic 2016
ISBN: 9781742991351