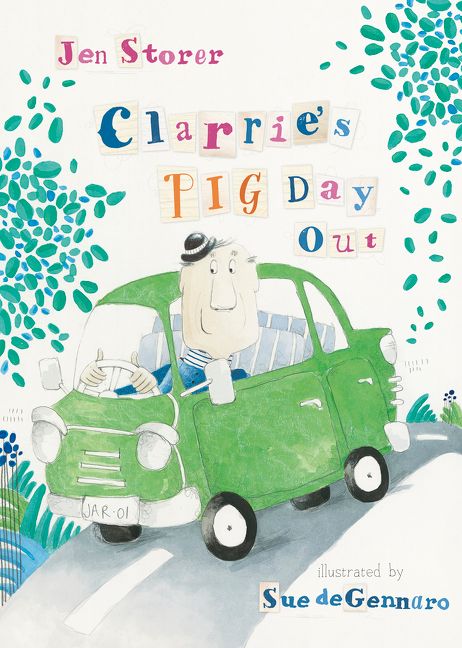 The sun is up and I have a lot to shoe.
No. I have a lot to poo.
No, no, no. I have a lot to do.
I'm going out and my dag is coming with me.
'Bert!' I say. 'Bert, are you ready?'
But Bert doesn't come.
Clarrie is a farmer, who has things to do in town. He also has a bit of trouble with words – getting the right ones, that is. He wants to take his dog but Bert can't be found. So Clarrie sets off without him. His day in town is full of tasks, from having morning tea, through getting new footwear to acquiring some new farm animals. But disaster strikes on the way home and perhaps Clarrie and his purchases may not make it. Clarrie and his chickens will need help if they are going to make it home. Illustrations use many mediums (acrylic, watercolour, ballpoint pen, grey lead and collage) and are set in white space. The font is handwriting-like and the mixed up words are presented letter by letter as if they have been torn from a newspaper or other source.
Clarrie's Pig Day Out bumbles gently along though a day in the life of farmer Clarrie. The language is poetic and funny, the illustrations an ongoing chuckle. The word substitutions will set the reader giggling. Readers can spot Bert when Clarrie cannot, and find the other animals who populate the farm. Clarrie's Pig Day Outoffers the opportunity to play with words, while subtly introducing meaning and variety to vocabularies. A hoot to read out loud, sure to be enjoyed by pre- and early-schoolers.
Clarrie's Pig Day Out Jen Storer ill Sue de Gennaro
ABC Books 2016 ISBN: 9780733334443
review by Claire Saxby, Children's author and bookseller