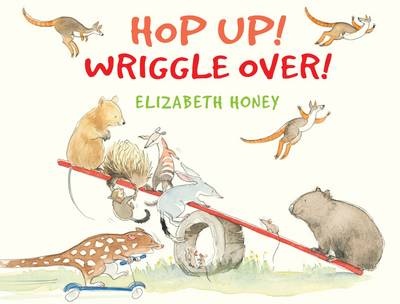 Hop up, wiggle over, wakey wakey, HUNGRY!
Crunch crunch, gobble gobble, lick lick, MORE!
So begins this beautiful little movement and sound filled offering for early childhood audiences. This unconventional animal family – Mum is a koala, Dad a big red kangaroo, and the nine children include a wombat, an echidna, a bilby and more – move through the day joyfully, from wake up till bedtime.
The text is minimal – just four words or phrases per spread, being the sounds the animals mutter (sploosh! boing…boing) or the occasional word such as yum yum! and a joyful Dad-dee! when Dad arrives at the park where the children are playing. Illustrations, in watercolour with pencil outlines are pastel-toned colours of the Australian bush, with white backgrounds and lots of fun detail for youngsters to discover. Movement is depicted with a few well placed lines, and the joy of the family is evident in their faces.
A joyful celebration of families and of Aussie animals.
Hop Up! Wriggle Over!, by Elizabeth Honey
Allen & Unwin, 2015
ISBN 9781743319987
Available from good bookstores and online.