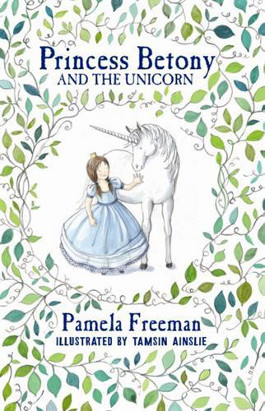 "Mother," she hissed, but her mother didn't hear. The shadowy figure set out across the terrace and down to the lawn below, heading across the grounds.
Betony's breath caught in her throat.
Her mother was going into the Dark Forest of Nevermore. She was leaving.
Princess Betony adores the queen, her mother, and knows that her mother loves her, too. But her mother is a dryad, a tree spirit, and misses the Dark Forest. And with the Lord Chancellor, the King's chief advisor, making life very difficult for the queen, Betony is worried she will lose her to the forest. So, when she sees her mother disappear into the trees in the middle of the night, Betony follows her, even though she knows it is dangerous. She will do whatever it takes to get her mother back – even catch a unicorn.
Princess Betony and the Unicorn is the first of four adventures featuring the adventurous, feisty but loyal Princess Betony. First published in 2012, its has been re-released along with the other three titles. Each features a magical adventure and is beautifully illustrated with grey scale illustrations on each spread, and charming cover designs.
Suitable for young fantasy lovers and those new to the genre, these are gorgeous books which will be treasured.
Princess Betony and the Unicorn (ISBN 9781925381023)
Princess Betony and the Thunder Egg (ISBN 9781925381030)
Princess Betony and the Rule of Wishing (ISBN 9781925381047)
Princess Betony and the Hobgoblin 9ISBN 9781921720260)
Walker Books, 2016